Adult coloring books. If you had told me years back that this was a thing, I wouldn't have believed you. I mean, how many adults out there would want to spend their time coloring? That's exactly what I thought back then. The truth is, when I heard the words "coloring book," I associated it with simple kids illustrations. It wasn't until I opened my first one that I saw what this new craze was all about.
Fast forward a few years and not only have I owned my fair share but I have just self-published and released my own! I totally understand now what has made it such a big thing. Unwinding, de-stressing, relaxing, whatever someone can do to take their mind off of things, that's what these books can do for you. Maybe it's just a way to unwind after a hard day. Maybe you're looking for something to help you unleash your inner artist. Whatever it may be, adult coloring books are your doorway.
My First Published Adult Coloring Book
Recently, I made the jump from coloring these books to creating them. I found, personally, that I enjoyed actually coming up with the illustrations rather than coloring them. Don't get me wrong, I still love the coloring part, I just got more satisfaction out of illustrating and seeing what others can do with my creations.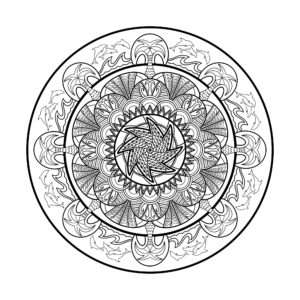 The book I just released is called Mandalas: The Art of Relaxation. It includes over 40 circular mandalas ranging from simple to complex. If you have never heard of a mandala, look them up. They have all different types ranging from symmetrical circles to complex designs drawn inside silhouettes of whatever object or figure you would like.
What were my inspirations for this book? Nature primarily. A lot of my designs are smooth, flowing lines and illustrations which include trees, leaves, and flowers. This is the first in a series of adult coloring books I will be releasing and I am so excited to be able to share my creations with you so that you can let your inner artist run free.
Where Did I Choose To Publish?
I chose to self-publish my book on Amazon KDP, which stands for Kindle Direct Publishing. The main reason for this is because it is a print-on-demand service. Put simply, I don't have to order large quantities and keep inventory on hand at my home. If someone wants to purchase my book, they buy I on Amazon and it gets specially printed and shipped. No hassle to me and fast Prime shipping is available for the consumer. It's a win-win.
KDP was not without its problems, however. From a standpoint of putting the book together on their site, it was a little challenging to get the margins right. It was also very time consuming because every time I'd correct my cover design or page designs, it would take what seemed like forever to put a print preview together again to check. And I had to do that quite a bit. But, like anything, if you're using the right software, just about any problem can be overcome.
What Software Did I Use For My Designs?
All of my designs were drawn in Procreate, an extremely slick, extremely cheap app made for the iPad and Apple Pencil. I absolutely love this app. Once I finished the illustrations, I uploaded them to Google Drive so I could download them on my laptop. Once on my laptop, I used Adobe InDesign to piece the book together. If you don't have any Adobe programs and are looking to do any kind of design work, they are a must-have in my opinion. For my book, I needed a blank page in between each illustration otherwise Amazon would print the pages double-sided and that's not what I wanted. InDesign was perfect for this and I was able to easily export the finished product into a PDF which is what I needed to upload on Amazon KDP.
The process went very quickly after that. Once I filled in everything Amazon needed for selling it, my book went into review. The message I got said to expect three days for the review process. I think mine was approved in about a day and a half. And now, I have an amazing book for sale and will be publishing more in the future. Seriously the most challenging part was coming up with all the illustrations and honestly, that was more fun than challenging.
Mandalas: The Art of Relation is available on Amazon right now. Check it out, you are going to love it!