Welcome to Reel Picks!
Looking for some recommendations for great films, I've got them. All out of ideas of what to watch? I've got some great ones for you! Wondering if a film is worth the watch and want an opinion about it? I got your opinion right here with my Top 10 Halloween Movies!
Halloween is approaching, weather is getting cooler (slowly but surely), and things are going to start getting a little spooky out there! If you're looking for a frightfully scary or just a frightfully funny Halloween flick to watch, I've got both on this list! Do keep in mind that much of these titles are NOT family friendly. If you're looking for a more family friendly list, I've got some great recommendations right here. Remember to check below each description for whether or not it is a family friendly film.
In keeping with a truly awesome top ten list, I'm slapping this one with a SPOILER ALERT. I always try my best not to spoil much but it does happen sometimes…so be warned! So with that being said, read on for my picks of the Top 10 Halloween Movies!
**Disclaimer – Some of the links are affiliate links which means I might get paid a small amount. But no worries, it won't cost you anything extra.
Top 10 Halloween Movies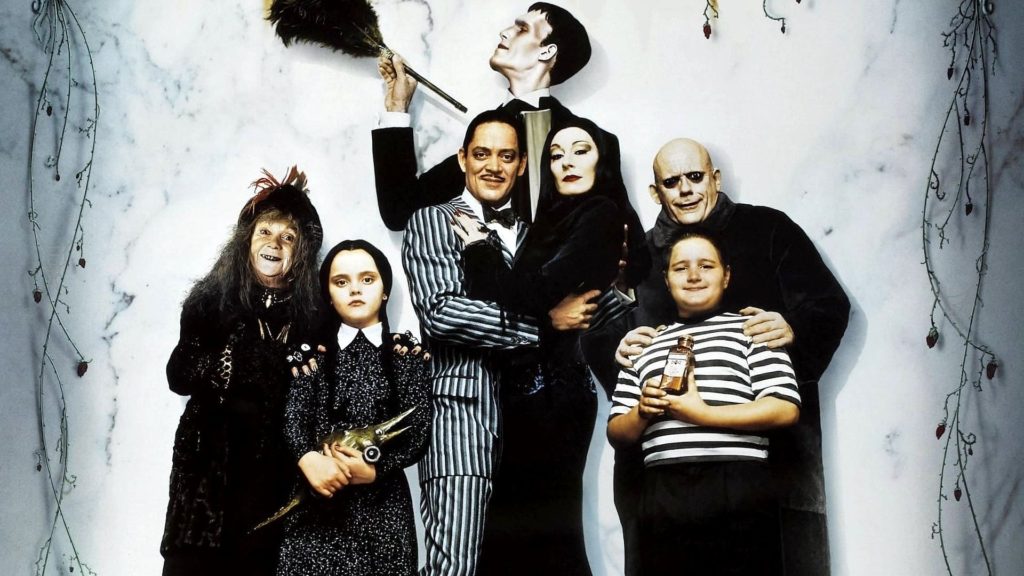 There have been a few different versions of The Addams Family throughout the decades. It has spanned from the black and white television show in the 1960s to the recent CGI incarnation released in 2019 (with one due out in October 2021). While these are all great, it is the 1991 and 1993 films that will always hold a special place in my heart as I grew up watching them. Raul Julia will always be Gomez Addams to me, and the rest fit their parts perfectly. It has comedy, a few scares thrown in here and there, but it mostly keeps things lighthearted and funny while being set in the odd macabre world surrounding this odd but hilarious family.
Family Friendly? There are a few questionable moments but mostly, yes.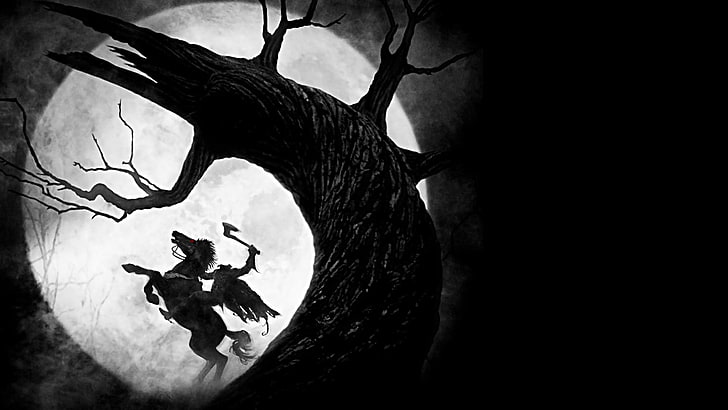 This underrated film from Tim Burton and Johnny Depp is definitely a more stylized (or…Burton-ized?) take on the legend of Sleepy Hollow. It has a nice, dark feel, while also taking a bit of time to still poke fun at itself at a few turns. If you're a fan of Tim Burton, then this one is definitely one for you. And if you're not, well, give it a try anyway, you might be pleasantly surprised.
Family Friendly? This is a dark, R rated take on the legend. So, no.
The Tales from the Crypt TV show was never a favorite of mine growing up. However, the spinoff movies I always found entertaining and, in keeping with the show's brand of humor, quite funny. This one, as opposed to its predecessor (also on this list), is definitely more heavy on humor than horror. What else would you expect from a Dennis Miller led Tales from the Crypt movie? I don't know if lighthearted is a good word for it, but this one definitely takes a more humorous approach to vampire lore. But just because the humor is dialed up, don't think the gore is dialed down. This is genuine 1990s gorefest fun through and through. Albeit, not quite as much as its big brother a few films down.
Family Friendly? That's a hard NO.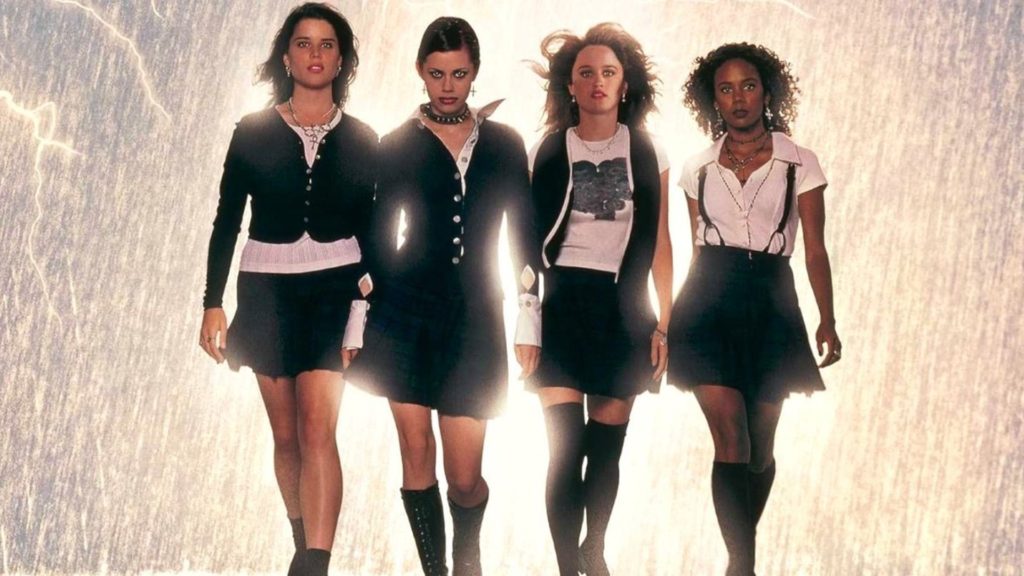 This is an entertaining and at times, downright creepy, take on a modern tale of teens discovering witchcraft. It starts out rather innocent (if that can be said for a movie about witches) with simple spells and such, but it soon escalates into full on ominous magic and creepy crawly hallucinations that still get me when I see them. Fairuza Balk definitely hands in an insane performance as the main villain while Robin Tunney is equally awesome as the "good" witch. Check this one out. It doesn't get talked about much now but it's still an entertaining Halloween flick.
Family Friendly? If your family overall is older, then possibly. Otherwise, I would say no.
You might or might not believe this, but this was actually marketed as a "children's" movie. Adapted from a book by Roald Dahl (the author of Charlie and the Chocolate Factory), they definitely went dark with this film. Witches luring kids in with chocolate bars only to kidnap them and turn them into mice? Not something that would be made into a kids movie these days. But, things were definitely different in the 80s and 90s. The unmasking scene when you first see the witches true form might frighten some adults. While it has not aged all that well over the years, it is still a frightfully fun Halloween film.
Family Friendly? Not so much, at least not for the real littles.
Tales From the Crypt's first spinoff film definitely doesn't disappoint. It does tip the scales definitely more towards the horror side than the previous Tales From the Crypt entry on this list. The humor is still there but the scares and gore take the front seat in this tale of a man chosen to carry a mystical key and keep it from falling into the hands of demons looking to bring back the darkness of hell on earth. Billy Zane is absolutely hilarious and bonkers at the same time as the main villain. If you're a fan of more of the old school practical makeup and blood and gore, this is a good one to check out.
Family Friendly? Uh, NO!
Who you gonna call? If you haven't heard of this classic comedy horror film (more comedy than horror), then that must be one big rock you've been living under. This story about four everyday normal men fighting and capturing ghosts in New York City which eventually leads to an event much more than just a bunch of random spirits is one that's held up amazingly well over the years. It has had a sequel, an animated series, a reboot, and now finally another sequel/reboot promising to be much more faithful to the first two. This one was practically on repeat for me growing up and I still watch it to this day. A true classic and one that's great for everyone to watch!
Family Friendly? I would say mostly yes, but between this one and its sequel, this is definitely the darker of the two.
Whatever you do, don't say his name three times! Or…you know…do, and see what happens. Another entry by Tim Burton which would have been worlds different if it was placed in another director's hands. Michael Keaton embodies the role with such perfection and overacting (in the best possible way) that it's hard to imagine anyone else filling his shoes. The look and feel of this film is definitely more wacky comedy than horror, save for a few creepy costumes. This exploration of the afterlife and its adventures and struggles therein is one that I'll always come back to for a bit of entertainment and I think you will as well!
Family Friendly? Somewhat. It's a PG movie, though the visuals can be a bit much for little ones.
Who out there hasn't heard of this timeless Halloween classic? If you haven't, go and check it out now and read the description later. Yes, it's that good. Don't listen to the ones that would label is as a boring kids Halloween cartoon. It's much more than that. Sweet and innocent, this is without a doubt the most lighthearted and children centered (literally) film on this list. But, it is still a quintessential Halloween flick if ever there was one. Well, save for the number one spot of course…
Family Friendly? 100% YES.
This is it, this is what Halloween flicks are all about. While it didn't give birth to the ever popular slasher genre, it did lay much of the groundwork and blueprints for what the genre would eventually grow into. Rightly taking place on Halloween night, it centers around Michael Myers, a mental patient who escaped from an insane asylum 15 years after being sent there for killing his sister, and his pursuit of a teenage babysitter in the fictional town of Haddonfield. It is found in a later sequel that the babysitter he is pursuing is actually his younger sister who was put up for adoption after the death of their parents. Say what you will about the rather slow moving nature of this film compared with that of today films, this is a definite classic that still holds up today. Wondering if I'm right? Well, the fact that sequels and reboots are still being made says a lot about it. Give it a look!
Family Friendly? Slasher flick with an over the top kitchen knife?? Let me think…NO!
So there you have it! Being only a Top 10 list I know I left some out so feel free to comment below with your favorites! Stay tuned for the next Reel Picks Top 10 and in the meantime, don't forget to check out the other films that I have reviewed!