Welcome to Reel Picks!
Looking for some recommendations for great films, I've got them. All out of ideas of what to watch? I've got some great ones for you! Wondering if a film is worth the watch and want an opinion about it? I got your opinion right here with my Top 10 Summer Movie Night Movies!
Ah, summer is here finally! And after the previous summer, we're all itching to get out together and have some good fun like we did in years past. And one of the most fun things I have done, and still do, are our outdoor movie nights. There's just something about gathering all your friends and family together, setting up the screen and projector in the front yard, setting out all the chairs and blankets, and having an evening enjoying a great movie. And if you're looking for some great, family friendly (mostly) movies to show to everyone, I've got a great round up for you!
**Disclaimer – Some of the links are affiliate links which means I might get paid a small amount. But no worries, it won't cost you anything extra.
Top 10 Summer Movie Night Movies
The title itself might sound a bit dark and morbid, but that's far from the actual feel of this summertime comedy. Put quite simply, Mom is leaving town for the summer to go to Australia. She decides to leave the kids with a babysitter. This doesn't sit well with them, especially the oldest who is 17 (the always wonderful Christina Applegate). Well, the babysitter actually ends up passing away of natural causes in her sleep. So, no evil deeds done, no freak accidents or anything. The kids decide that instead of calling their mom and telling her what happened which would make her come back home (something they did NOT want to do), they were going to band together and try to get through the summer however they can. It starts off as any movie like this probably would: going crazy, emptying out the house of all food and everything else. But when the oldest sister realizes that they can't make it without some kind of money, she resolves to get a job. This whole movie is basically like a household version of Survivor. However, they do learn many important lessons in responsibility and that growing up actually isn't all that bad. Now, while all of the films on this are about 95% family friendly, this one does push the limits a bit with a few drug references made by the oldest brother and his friends.  This one is definitely a product of the 90s when certain content wasn't exactly shied away from. But all in all, it's actually a very hilarious movie and is definitely worth a view.
A favorite pastime of summer is baseball, and this list wouldn't be complete without at least one baseball film! Penny Marshall directed one doozy of a film about the formation of the All American Girls Professional Baseball League during World War II when the men were off serving their country. This film follows them from their recruitment and formation all the way up through their first World Series. The cast is superb, especially Geena Davis and Tom Hanks who gives an absolutely hilarious turn as Coach Jimmy Dugan. This is one of those few films that makes you stand and cheer for the main characters and laugh at them all at the same time. It's a great, heartfelt family sports film that is hilarious one minute and literally the next second it'll have you crying. Subject matter wise, it's all in all pretty clean for the family, save for a few choice comments by Hanks' character. And the fact that women are not treated as equals to their male counterparts. But this was the time they lived in and this film doesn't avoid making references to potential players that might have been ignored because the scouts didn't feel they were "pretty enough" to play baseball. If you want a wonderful, mostly lighthearted baseball film, you can't go wrong with this.
The one that really kicked off the disaster movie craze is still a great one to this day. If you have a projector and a good screen and sound, pump this baby up to max volume and you'll feel like you're right in the middle of it! Although it's a bit unbelievable at times (I really doubt that a single leather belt tied to a pipe could keep someone from getting sucked into a tornado when a full sized fuel tanker gets thrown around like a rag doll, but I digress), it's still a special effects filled great popcorn flick that features the late great Phillip Seymour Hoffman in one of my personal favorite roles that he's ever done.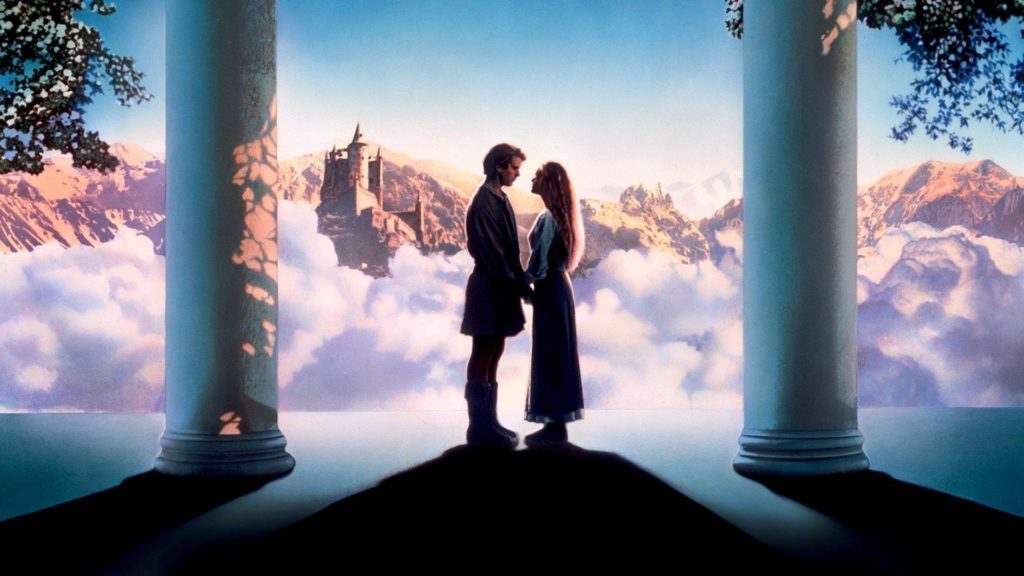 Fencing, fighting, torture, revenge, giants, monsters, chases, escapes, true love, miracles. How is this not one of the greatest summer movies around?! One that you might see a few times on my Reel Picks, this one has it all. Sword fighting, fire swamps, large rodents, as well as a central love story involving a princess. This extremely quotable movie is a childhood favorite of mine and if you haven't seen it yet or God forbid, heard of it, then rush and go see it now!
Who you gonna call? Anyone should know that line. All remakes and sequels aside (Answer the Call was not the best but definitely not as bad as everyone made it out to be), this is the original. Yes, there's comedy, but probably half the comedy and twice the scares when compared to its sequel and subsequent remake. All of the leads are awesome but the one who really steals the show every time he is on screen is the legendary Rick Moranis. Another childhood favorite of mine, I loved it for many reasons but one is that these guys aren't superheroes, they're not highly trained soldiers. They're normal guys who get just as scared as you or I would if a giant green ghost was flying straight for us, totally relatable! Now, where's my proton pack??
This is the real Willy Wonka. I'm sorry to all who loved the remake to this original, but Charlie and the Chocolate Factory was just an odd film and after seeing the original for so many years, I just wasn't impressed. Gene Wilder IS Willy Wonka. And as opposed to Johnny Depp's interpretation, he plays Wonka off as a bit eccentric and odd on the surface, but underneath he is a really loving guy, and that comes pouring out in the last ten minutes of the film. Maybe it's because I've seen this so many times but this is the chocolate factory I'd love to go to, no offense to Tim Burton's style which I do like, it just doesn't work for this. This is a wonderful movie/musical that's awesomely enjoyable no matter how old you are.
This little gem of a summer camp movie is probably one of the most underrated movies on this list. Featuring the always awesome Christopher Lloyd in a non Doc Brown role, he plays a former teacher who is being pursued by a collector because of not making payments on a car he owns. When a group of kids trying to get out of spending a painful summer stuck in boring summer camps find him, they strike up a deal for Lloyd to help them create the ultimate summer camp that they can all go and enjoy the summer in their own ways. I was 13 when this film came out, and this is where I wished I could go for "camp." It's a fun time and an awesome nostalgic ride!
Heartfelt, tear jerking, funny. This is one of the few films out there where the incoming alien is good, lovable, and never wanted anything more than to explore. In a day where aliens always seem to be shown to want to hurt us, ET just wanted to see the universe and understand it. And his friendship with Elliot is one for the ages. Doesn't matter if you're a child or an adult, anyone and everyone will enjoy this. If you're looking for a great journey, there's only a couple better choices I can think of.
Who hasn't wished they could find a treasure map and actually follow it around and under their town to an eventual treasure hidden on a pirate ship?? This coming of age film about a group of kids is just that. After finding a treasure map amongst museum artifacts in his attic, Mikey and his friends go on a dangerous quest to retrieve the lost treasure of One Eyed Willy knowing that if they find it, it might save their doomed subdivision from being demolished and turned into a golf course. What follows is a great adventure flick that is hard to believe it takes place all underneath the streets of a seemingly normal small town in Oregon. As they are pursued by a trio of criminals on the run who discover where the Goonies are heading, they are constantly having to avoid them to be the first to reach the treasure and save their homes. Oh, and there's Sloth. Don't know who that is, see the movie!
The ultimate summer movie. If I said the words "you're killing me Smalls," most anyone would know what I'm talking about. And if you don't, shame on you. Set in the summer of 1962, this is just a fun summertime movie about best friends playing baseball and coming together to save the new kid from certain doom after his stepdad finds out he used his autographed Babe Ruth baseball for a game and hit it into the clutches of The Beast, a giant English Mastiff dog (if you know the breed, you know the size) who guards the junkyard behind their sand and dirt covered baseball field. This is a completely fun and innocent coming of age movie with a group of kids whose only worry every day of the summer is making sure they always have a baseball. They're not part of an official team, they play solely because they love the game. If you're looking for a great summer time movie, this is it.
So there you have it! Being only a Top 10 list I know I left some out so feel free to comment below with your favorites! Stay tuned for the next Reel Picks Top 10 and in the meantime, don't forget to check out the other films that I have reviewed!