Looking for some recommendations for great films, I've got them. All out of ideas of what to watch? I've got some great ones for you! Wondering if a film is worth the watch and want an opinion about it? I got your opinion right here with my Top 7 Brendan Fraser Movies!
Brendan Fraser has had more on his plate to deal with these past few years than most should have to deal with in a lifetime. From claims of being inappropriately groped by a very high up in the motion picture world, to divorce from his wife, and then losing his mother…and all of this in a very short timespan, it's completely understandable that he hit his breaking point and just needed some time to heal.
But thankfully, he appears to be back in a big way (no pun intended) with his very well received role in the upcoming Darren Aronofsky film The Whale. The guy is such a gifted actor and can play a wide variety of characters across just about any genre of film. That is something that not all can do, or at least not all can do well.
So, with that being said, here are my picks for the Top 7 Brendan Fraser Movies!
**Disclaimer – Some of the links are affiliate links which means I might get paid a small amount. But no worries, it won't cost you anything extra.
I may catch some flack for this, but I have a soft spot for this movie. Is it Frasers best? Not by a long shot. Is it a particularly great overall film? No, not really. But, when I first saw this movie, I saw a lot of myself in the character that Fraser played. His character was shy, confidence-lacking, geeky (before it was considered a good thing), and hopelessly longing for someone he knew in his mind he could never be with. And with a little deal he made with the devil, he finally got his chance to have everything, and everyone, he wanted.
Now, if you've seen the movie, you know that's definitely not how it turned out. If you haven't seen it, I won't spoil it, just go and check it out. And damn, if the ending to the movie wasn't about as satisfying and heartwarming as anything else I've ever seen, and so completely unexpected for the oddball comedy that it was.
This comedy involves three knuckleheads that hijack a radio station and hold hostage everyone inside of it just to get some airtime for a demo reel that they cannot get any reputable record label to listen to. It's not the strongest storyline and aside from a few jerky antagonists, there's no real big, bad villain. These guys are everyday guys who have had a run of bad luck and decided to make a bonehead move to get themselves noticed.
In a sea of SNL style comedy led by some of its biggest comedians at the time, Fraser plays probably the most serious of all the characters (which is saying a lot with costars like Chris Farley, Adam Sandler, and Steve Buscemi). Fraser has had a lot of chances to show his comedic side and I love this one as he doesn't bring himself down to the level of typical (at the time) Adam Sandler comedy. Now I'm not knocking the old school Sandler movies, but it just isn't my thing anymore as I've gotten older. Check it out, it still has some of the funniest one liners I've heard and definitely gets props for some awesome chemistry between the lead actors.
Fraser can play naive so convincingly. If you want a good example, give this gem a try. It is about a family that sealed themselves in a huge, homemade bomb shelter as the threat of nuclear war with Russia grew to its heights. Fraser's character was born in the shelter and finally surfaced to survey the expected "damage" after 35 years of being underground. Unsurprisingly, he knows nothing of the world that he walks into and has a childlike innocence and naivety about everything he encounters.
This movie is filled with some hilarious moments, from Fraser, his father (played by the awesome Christopher Walken), and a small part played by The Kids in the Hall's Dave Foley. He and Alicia Silverstone are great together. Fraser's character is a genuine good and caring guy and one hell of a dancer (thanks to the teachings of his mother). Give this one a look!
4. Still Breathing
This is one of the more unknown films of Brendan Fraser's career. Before seeing it, I had never heard it talked about, never read about it anywhere. I happened across the trailer while renting a different movie at my local Blockbuster Video. While everyone was obsessed with his slapstick comedic turn in George of the Jungle, this one slipped under the radar. It is a truly great romantic drama featuring one hell of a performance by Brendan Fraser as a street performer who has dreams and visions of his soulmate and journeys to try and find her, not knowing that she is actually a con artist who is out for money.
Despite her extremely cynical, burned-one-too-many-times nature, she eventually starts to question all of her decisions as she finds out who he really is. This gem of a movie was totally unexpected and and is one of the highlights (in this writer's opinion) of Fraser's acting career. Unfortunately, it is a very hard to find film (at the time of this post, it is offered free with ads on Amazon Prime) but if you can manage to find it on DVD or streaming, it is well worth the watch.
This was Fraser's first completely epic, popcorn action flick. And it definitely delivered. Spawning two more direct sequels, The Mummy established Fraser as a completely capable leading action star. While it took a minute or two to get used to the actor largely known for his role in Encino Man alongside Pauly Shore, and as a hair metal band member opposite Adam Sandler, I really don't think there's anybody else who could have done a better job in this role and made it as memorable as it was. This is a truly epic monster action movie that still holds up as being one of the best popcorn flicks.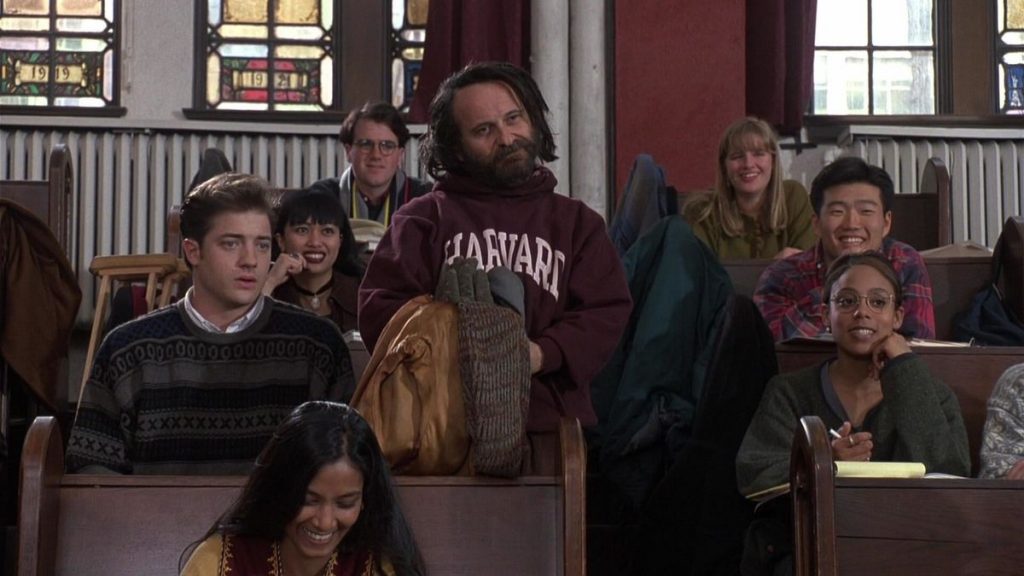 If it weren't for the next movie on this list, With Honors would have taken the top spot for my favorite Brendan Fraser movie. He plays a Harvard college student who, after injuring himself outside of the campus library, find that his thesis paper he was carrying was found by a homeless man (Joe Pesci) who was using pages to keep his fire going. While Pesci's character was arrested after the police were called, they were unable to recover the rest of the thesis. Pesci's character later reveals he has the thesis and will give pages back in exchange for various services such as food, a roof over his head, and others.
Along the way, Fraser is taught to view world in a better light and to see the good in humanity and to realize the true pleasures in living life to its fullest. This movie has some of the best, slow-clap inspiring scenes I've seen. Fraser transforms throughout the movie from a cynical young adult unable to let go of issues that drag him down, to a man who can let go of is anger and live and love life. Pesci steals most of the scenes he's in and his speech about the genius of the constitution of the United States of America is genius.
This is one of the first films I saw Brendan Fraser in and it still remains my favorite Brendan Fraser movie to this day. Fraser plays David Greene, a Jewish boy who is awarded a football scholarship to an elite Catholic boarding school for the duration of his senior year in late 1950s Massachusetts. His "friends" and teammates, who are all largely antisemites, do not realize that he is in fact Jewish as he hides his heritage from them.
As the year progresses and his Jewish heritage is discovered, friends quickly turn into enemies and he must struggle at every turn to finish the school year. This is an awesome ensemble cast of megastar actors who were all relatively unknown at the time. While it may not be the most uplifting movie I've ever seen, it stands out as Fraser's best and a film that I recommend anyone watching in a history class, not because it is a true story, but definitely true to the times it was based in.
So there you have it! Being only a Top 7 list, I know I have probably left some out so feel free to comment below with your favorites! Stay tuned for the next Reel Picks and in the meantime, don't forget to check out the other films that I have reviewed!